The '80s is often considered the darkest period in Bollywood history. But this was the time Indian television was warming up to some really good content with serials like Buniyaad, Hum Log, Mahabharata, Ramayana, Sherlock Holmes, Nukkad and many more.
The '80s is often considered the darkest period in Bollywood history. This was the time when the '70's big guns, Rajesh and Vinod Khanna, were giving duds after dud and the Khan troika of the '90's was yet to rise. Amitabh Bachchan and Jeetendra looked old and jaded, and Anil Kapoor, Sunny Deol and Jackie Shroff were nothing more occasional flashes in the pan. Sridevi and Jaya Prada weren't doing anything better either, busy churning out re-runs of their Tamil and Telugu hits for a foothold in mainstream pan-India audience.
But this was the time Indian television was warming up to some really good content. Rich in stories, an amazing collection of actors and some truly engaging storytelling meant that the television was the place to be.
We go down memory lane and revisit some shows that ensured every minute we spent in front of the small screen was totally worth it.
Mahabharata (1988 – 1990)

Without doubt, the king of Indian television! Sunday mornings, with those deserted streets anywhere in India, have never been the same since then. Even today, this BR Chopra-produced multi-starrer remains the benchmark for any mythological TV serial. Such was its popularity that even BBC broadcast it, and this mega serial was dubbed in Tamil, Telugu and Indonesian for respective viewers as well. Who can forget Mahendra Kapoor's rendition of the shloka from Geeta 'Yadaa yadaa hi dharmasya' and Harish Bhimani's narration (he's also the voice of Samay, if you recall).
Hum Log (1984)
Written by Manohar Shyam Joshi, Hum Log was India's first soap opera. Tracing the lives of the members of a lower middle class family, the aspirations and problems would soon find a taker in all. Remember characters like Nanhe, Basesar Ram, Badki and Chutki? Who can forget the monologue at the end of every episode where actor Ashok Kumar discussed the happenings and end it with the punchline 'Hum Log'.Bharat Ek Khoj (1988)
This Shyam Benegal-directed serial, based on Pandit Jawaharlal Nehru's Discovery of India, wasn't popular but remains an important milestone in television historical dramas. It starred Roshan Seth (playing Nehru, who else but him!), and actors like Om Puri and Pallavi Joshi, Kulbushan Karbanda playing important roles, it was engaging if elite content.
Buniyaad (1986)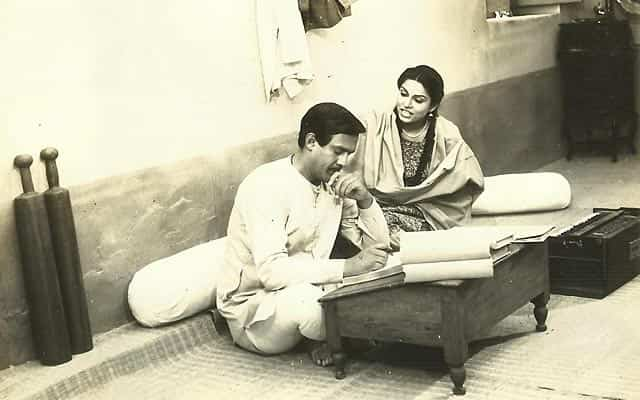 Manohar Shyam Joshi was back on TV with another family drama called Buniyaad, unfolding during partition and in the period that immediately follows. It was a hugely popular TV serial that sealed Doordarshan's fate as the primary broadcaster in the 1980s. With theatre-honed talents such as Alok Nath, Anita Kanwar, Sulekha Sikri, Sudhir Pandey and a legion of good Bollywood talent like Soni Razdan, Vijayendra Ghatge and Kiran Juneja, the serial was a hit from the word go. Who can forget Lajoji and Haveliram!
Fauji (1989)
Ah, Fauji! The serial that would give Bollywood its next big superstar after Madhuri Dixit -– Shah Rukh Khan. A TV series based on the training of Indian Army officers, the series was an instant hit, mostly with girls.Katha Sagar (1986)
Yet another popular TV series directed by veteran director Shyam Benegal and several others and based on short stories by famous writers from world literature — Guy De Maupassant, Rabindranath Tagore, Leo Tolstoy, O Henry, Anton Chekov among many others. And featuring in them were some of best talents from Bollywood and theatre – Utpal Dutt, Shammi Kapoor, Om Puri, Saeed Jaffrey, Waheeda Rehman, Moushumi Chatterjee, Supriya Pathak, Vijayendra Ghatge, Parikshit Sahni, etc.