Odissi or Orissi is one of the pre-eminent classical dance forms of India which originated in the Hindu temples of the eastern coastal state of Odisha in India. Its theoretical base trace back to 'Natya Shastra', the ancient Sanskrit Hindu text on the performing arts. Age-old tradition of Odissi is manifested from Odisha Hindu temples and various sites of archaeological significance that are associated with Hinduism, Jainism and Buddhism, the sculptures of which adorn dance postures of this art form. A form of illustrative anecdote of mythical and religious stories, devotional poems and spiritual ideas emoted by dancer with excellent body movements, expressions, impressive gestures and sign languages, its performance repertoire includes invocation, nrita, nritya, natya, and moksha. This dance form includes themes from Vaishnavism and others associated with Hindu gods and goddesses like Shiva, Surya and Shakti.
History & Evolution
The antiquity of this dance form is evident from its roots that trace back to the ancient Sanskrit Hindu text called 'Natya Shastra' which deals with different performing arts. All the 108 fundamental dance units elucidated in 'Natya Shastra' are similar to this art form. It encompasses thousands of verses that are structured in various chapters. Dance is divided in two specific forms in this text namely 'nrita' and 'nritya'. While 'nrita' is pure dance that focuses on perfection of hand movements and gestures, 'nritya' is solo expressive dance that stresses on the aspects of expressions. Natalia Lidova, a Russian scholar, says that the text enlightens on several theories of Indian classical dances including that of Tandava dance of Lord Shiva, standing postures, basic steps, bhava, rasa, methods of acting and gestures. Reference to four popular styles of vrittis that is methods of expressive presentations namely 'Odra-Magadhi', 'Panchali', 'Dakshinatya' and 'Avanti' is found in the text, of which Odra refers to this performing art.
Sites of archaeological and historical significance like caves and temples in Puri, Konarak and Bhubaneswar bear carvings that are historical manifestations of ancient art forms like music and dance. The heritage site of Udayagiri, the largest Buddhist complex in Odisha, houses the Manchapuri cave belongs to the reign of Kharavela, the Jaina king of Kalinga from the Mahameghavahana dynasty who ruled sometime around the 1st or 2nd century BCE. The cave depicts carvings of musicians and dance. Reference of music and dance are also found in Udayagiri's Hathigumpha Inscriptions that were inscribed by Kharavela. The antiquity of Odisha's musical tradition is also palpable from the account of discovery of a lithophone by the archaeologists that is made of polished basalt with 20 keys. It was unearthed in the archaeological site near Angul, Odisha called Sankarjang that dates back to around 1000 BCE.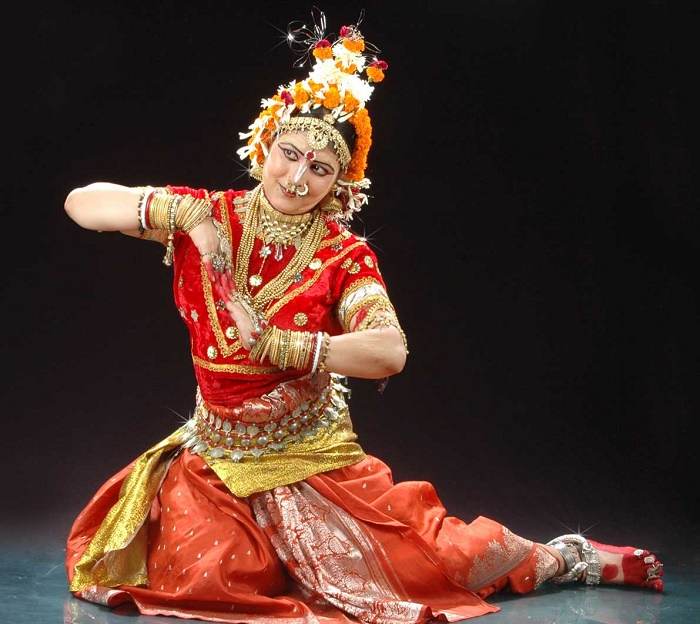 Inscriptions and carvings of dances dating back to the 6th to 9th century CE are found from Odisha's Hindu, Buddhist and Jaina archaeological sites especially from the Assia hill range. Some such sites are temples and caves at Alatgiri, Ratnagiri and Lalitgiri and the Ranigumpha in Udayagiri. Buddhist icons namely Marichi, Vajravarahi and Haruka are carved in dancing poses that depict Odissi. Alexandra Carter mentioned that Maharis that is Oriya temple dancers or devadasis and architecturally rich dance halls referred as nata-mandap were quite in fashion by the 9th century CE or may be prior to it. Kapila Vatsyayan, a prominent art historian and Indian scholar of classical Indian dance art and architecture mentioned that manuscripts of the Jain text titled 'Kalpa S?tra' comprising of biographies of Jain Tirthankaras that was unearthed in Gujarat encompass Odissi dance poses like Chuaka and Tribhangi as decorative in its cover and margins. This indicates the popularity of this dance form in the medieval era even in regions of India far away from Odisha.
Repertoire
Performance repertoire of Odissi sequentially includes an invocation followed by nritta, nritya, natya, and moksha. The invocation called Mangalacharana is performed followed by offering of flowers called Pushpanjali and salutation to mother earth referred as Bhumi Pranam. Next in line is performance of Batu or Batuka Bhairava or Battu Nrutya or Sthayee Nrutya which is pure dance or nritta dedicated to Lord Shiva. It is performed only on rhythmic music without any recitation or singing. The next part is nritya that encompass expressional dance or Abhinaya to communicate a story, song or poetry through hand gestures or mudras, emotions or bhavas and eye and body movements. The next part natya includes a dance drama based on Hindu mythological texts and epics. An Odissi performance is concluded with the dance movement referred as Moksha that aims to communicate a feeling of emancipation of the soul.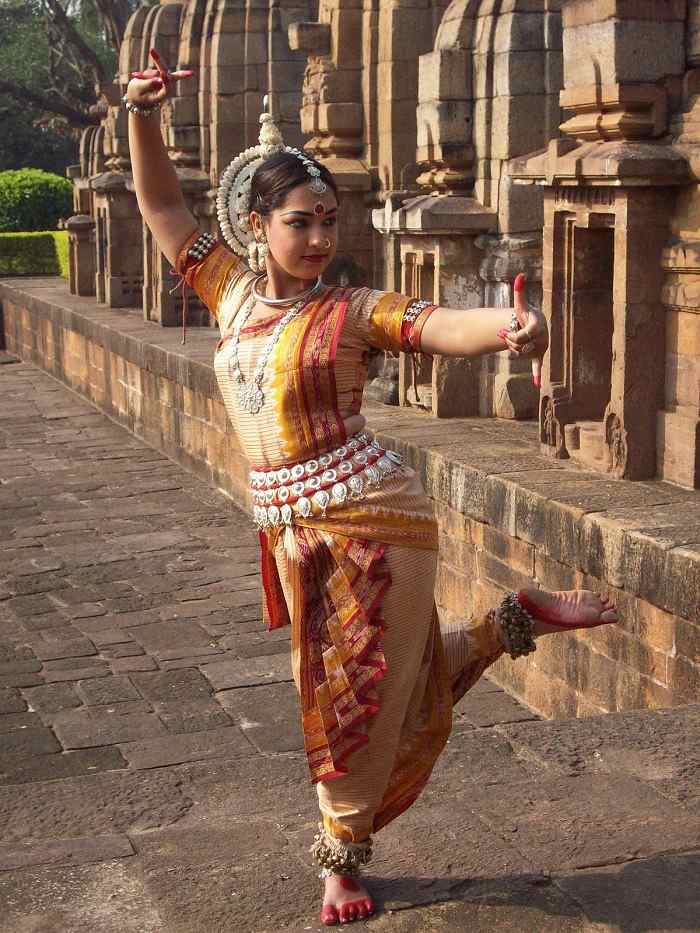 Costumes
The female dancers wear brightly coloured sari usually made of local silk adorned with traditional and local designs such as the Bomkai Saree and the Sambalpuri Saree. The front part of the sari is worn with pleats or a separate pleated cloth stitched in front to ensure flexibility of movements of the dancer while showcasing excellent footwork. Silver Jewellery adorns her head, ear, neck, arms and wrists. Musical anklets called ghunghru made of leather straps with small metallic bells attached to it are wrapped in her ankles while her waist is tied with an elaborate belt. Her feet and palms are brightened with red coloured dyes called alta. She wears a tikka on forehead and outlines her eyes prominently with Kajal so as to make her eye movements more visible. Her hair is tied in a bun and beautified with Seenthi. A moon shaped crest of white flowers or a Mukoot that is a reed crown with peacock feathers symbolising Lord Krishna may adorn the hairdo.
A male dancer wears a dhoti neatly pleated in the front and tucked between the legs that cover his lower body from waist while the upper body remains bare. A belt adorns his waist.
Instruments & Music
The unique feature of this dance form is that it incorporates Indian ragas, both from south and north that indicate exchange of concepts and performance arts between the two parts of India. 'Shokabaradi', 'Karnata', 'Bhairavee', 'Dhanashri', 'Panchama', 'Shree Gowda', 'Nata', 'Baradi' and 'Kalyana' are the main ragas of Odissi. The musical instruments include tabla, pakhawaj, harmonium, cymbals, violin, flute, sitar and Swarmandal.
To read more about this article, click here.