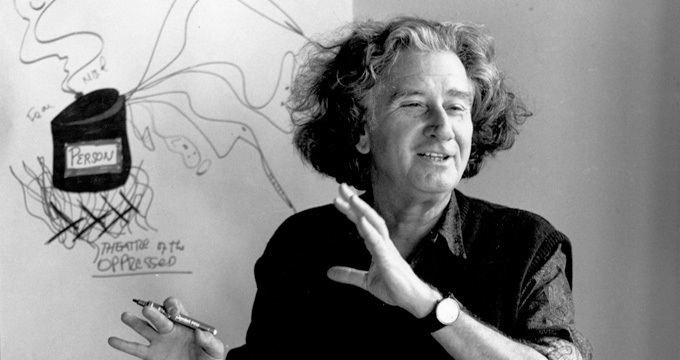 Brazilian author and theatre practitioner Augusto Boal, born on 16th march 1931, grew up in Rio De Janeiro, Brazil. He earned a degree in chemical engineering in 1952. However, Boal was interested in theatre since he was a child so when he studied at Columbia university in New York City, he studied theatre in addition to chemical engineering. Boal began his career in theatre with The Arena Theatre in Sao Paulo in 1956, where he worked as an artistic director. His work at Arena led to his experimentation with new forms of theatre that would have an impact in the society. One of the classical dramas was John Steinback's Of mice and men, also known as Ratos e Homens in Brazil, was the first performance that he directed at Arena. In late 1960s, Boal was inspired by a book by revolutionary educator Paulo Freire named Pedagogia do oprimido. He began experimenting with a form of Living Newspaper theatre. His teaching was controversial, and as a cultural activist he was seen as a threat by the Brazilian military.
In 1971, Boal was abducted from the street and arrested. He was tortured and was exiled to Argentina for five years. During the five years Boal published two books, Torquemada and his first major theatre text The Theatre of oppressed. Torquemada is about the Brazilian military regime's systematic use of torture in prison. In The theatre of oppressed, he defines three forms of theatre. In Image theatre, performers formed a draconian situation and spectators invited to interpret and suggest changes in the play. Invisible theatre involves actors and performers a written problematic situation in a public place to provoke the people passing by. Those people are unaware that they are part of the act. Lastly in Forum theatre, actors perform a short scene based on any event involving oppression. 'Spect-actor' is the term Boal used to describe those engaged in Forum theatre. It refers to the role of both a spectator and actor, who both observe and create dramatic meaning and action in any performance. The term also can be attributed in invisible theatre as well as image theatre.
While his years in Paris, he continued to teach his revolutionary approach to theatre, establishing several centres for the Theatre of the Oppressed. Boal stated that 'The theatre itself is not revolutionary: it is a rehearsal for the revolution'.  In 1981, He organized the first International festival of the Theatre of the Oppressed in Paris.
In 1986, Boal returned to Rio De Janeiro. On his return he established a major centre for the theatre of the oppressed. He also established several community theatre companies. The presentations were primarily done through forum and image theatre. In 1992, Boal published his second major work- Games for Actors and Non-Actors. It is most practically influential book, it has exercise, stories of his work in Europe and brief explanations of his theories. It is useful to people experienced and inexperienced in theatre making. Boal was invited as the keynote speaker for the National Conference of the Association for Theatre in Higher Education (ATHE) in Atlanta, Georgia. In the fall of 1992, Boal was elected for the position of Vereador of Rio. He severed as on Rio De Janeiro's city council from 1992 to 1996, where he formed Legislative theatre, which focused on the policies and laws that could solve the problems. Legislative theatre was similar to forum theatre.
Paul was a very dear friend of Boal. Sadly Freire passed away in early May 1997. Boal said that he lost his father now all he had were his brothers and sisters. Same year he went to England where he worked with the world-renowned Royal Shakespeare Company. The company asked Boal to employ his Rainbow desire techniques in working with them on the production of Hamlet. Boal was not interested in the central part of the story, but in characters which are usually cut from the play. He imagined a text of the marginal characters, the ones without much power. In August, he was awarded the Career Achievement Award by the Association for Theatre in Higher Education during their national conference in Chicago. Boal received The Cross Border Award for Peace and Democracy by Dundalk Institute of Technology in 2008. Boal inspired and influenced many artists through various means and gained recognition. He even held workshops in many places such as Europe, Africa, Asia, and Australia, and North America to reach out to as many people as he can. Boal went on his first major tour in 1999 in the US, where he travelled to the universities and colleges. The objective behind his workshops were to leave behind at least a few people who can offer Boal-based ideas, techniques and workshops. Hopefully, there are thousands of people who are carrying out the techniques and encouraging others too.
Augusto Boal's final tour was in North America in may 2008. He offered a three-day Legislative Theatre workshop on the campus of UNO in preparation for a Legislative Theatre session. It was a remarkable event, large number of audience were present from city and universities, even PTO Conference were also in attendance. In the fall of 2008, PTO went ahead with plans to invite both Augusto and Julian to the 15th Annual Conference scheduled for May 18 – 21, 2009. Boal was working on one of his central projects and also working on his book The Aesthetics of the Oppressed. On the 2nd of May 2009, Boal's son Julian stated 'My Father (Augusto Boal) is gone- he went away sleeping'.  The shock was astonishing. Still the 2009 conference was held. A grieving and honoring ritual was organized for late in the evening on Wednesday, May 20. Augusto Boal was the best-known and respected theatre practitioner abroad.